shadow and bone: ruin and rising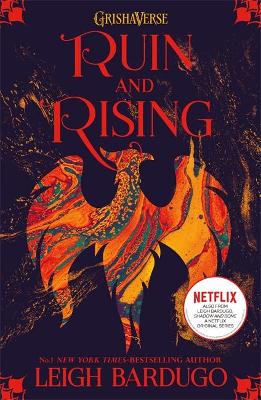 N
Brand/Author:

bardugo leigh

ISBN 13:

9781510105256

Publisher :

orion children's books

Availability:

Stock Available
---
Details
Title information
Shadow and Bone Ruin and Rising
Format
384 pages Pages
Publisher
orion children's books

Dimensions (H x W x L)

:

196 x 128 x 34 mm

Shipping Wtg

Shipping Wtg:

0.367 Kg

Language
ENGLISH
ISBN10
1510105255
ISBN13
9781510105256
Global Date of Publication
6/28/2018 12:00:00 AM
Series Title
Shadow and Bone
NBD Audience (Readership)
Teenage / Young Adult
Product Format
BC
Country of publication
United Kingdom
Book Main Category
Children's / Teenage fiction: Fantasy
Book Sub Category
JUVENILE FICTION / Fantasy & Magic
enter the grishaverse with book three of the shadow and bone trilogy by number one new york times-bestselling author leigh bardugo.
perfect for fans of laini taylor and sarah j.
maas.


now with a stunning new cover and exclusive bonus material: the demon in the wood (a darkling prequel story) and a q&a with leigh bardugo.
.
Related Products