divine rivals hb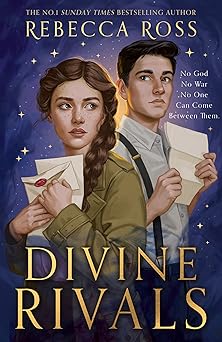 A
Brand/Author:

ross rebecca

ISBN 13:

9780008588151

Publisher :

magpie

Availability:

Stock Available
---
Details
Title information
divine rivals hb
Format
? 368 pages Pages
Publisher
magpie

Dimensions (H x W x L)

:

1.2774 x 0.1483 x 0.8324 inches

Shipping Wtg

Shipping Wtg:

0.45 Kg

Language
ENGLISH
ISBN10
?
ISBN13
9780008588151
no god no creature no warcan come between themthe latest from the number one sunday times bestseller rebecca rosswhen two young rival journalists find love through a magical connection, their fate depends on their facing the depths of hell … together.
after centuries of sleep, the gods are warring again …all eighteen-year-old iris winnow wants to do is hold her family together.
with a brother on the frontline forcedto fight on behalf of the gods now missing from the frontline and a mother drowning her sorrows, iris's best bet is winning the columnist promotion at the oath gazette.
but when iris's letters to her brother fall into the wrong hands – that of the handsome but cold roman kitt, her rival at the paper – an unlikely magical connection forms.
expelled into the middle of a mystical war, magical typewriters in tow, can their bond withstand the fight for the fate of mankind and, most importantly, love?an epic enemies-to-lovers fantasy novel filled with hope and heartbreak, and the unparalleled power of love.
rebecca ross' book 'a river enchanted' was a no.
1 sunday times bestseller w/c 07-02-2022.
read more.
Related Products