trust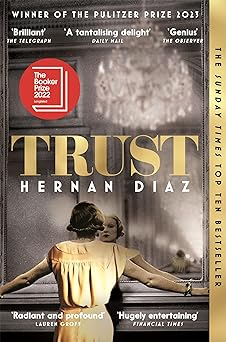 A
Brand/Author:

diaz hernan

ISBN 13:

9781529074529

Publisher :

picador

Availability:

Stock Not Available
---
Details
Title information
trust
Format
? 416 pages Pages
Publisher
picador

Dimensions (H x W x L)

:

1.2644 x 0.1935 x 0.8387 inches

Shipping Wtg

Shipping Wtg:

0.3 Kg

Language
ENGLISH
ISBN10
?
ISBN13
9781529074529
the sunday times bestsellerwinner of the 2023 pulitzer prize for fictionlonglisted for the booker prize 2022one of barack obama's favourite books of 2022trust is a sweeping puzzle of a novel about power, greed, love and a search for the truth that begins in 1920s new york.
can one person change the course of history?a wall street tycoon takes a young woman as his wife.
together, they rise to the top in an age of excess and speculation.
now a novelist is threatening to reveal the secrets behind their marriage.
who will have the final word in their story of greed, love and betrayal?composed of four competing versions of this deliciously deceptive tale, trust by hernan diaz brings us on a quest for truth while confronting the lies that often live buried in the human heart.
'one of the great puzzle-box novels .
.
.
a page-turner' – the telegraph'genius' – the observer'radiant, profound and moving' – lauren groff, author of matrix'metafiction at its best, unpredictable, clever and massively enjoyable' – the sunday times'enthralling' – daily mail read more.
Related Products