priest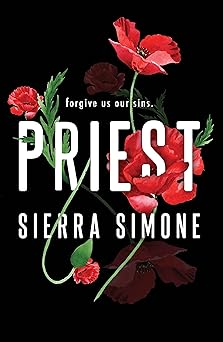 A
Brand/Author:

simone sierra

ISBN 13:

9781728278384

Publisher :

bloom books

Availability:

Stock Not Available
---
Details
Title information
priest
Format
? 320 pages Pages
Publisher
bloom books

Dimensions (H x W x L)

:

1.2774 x 0.1227 x 0.8324 inches

Shipping Wtg
Language
ENGLISH
ISBN10
?
ISBN13
9781728278384
from usa today and wall street journal bestselling author sierra simone comes her steamy, tiktok-famous priest series, in which sinners and saints alike test the bonds of religion, love, and lust.
he's a priest, and here is his confession.
there are many rules a priest can't break.
a priest cannot marry.
a priest cannot abandon his flock.
a priest cannot forsake his god.
tyler bell has had no problem playing by the rules for the last three years after a family tragedy set him on the path to priesthood.
that all changes when the delicious, sultry voice of poppy danforth sinks its claws in him through the screen of his confessional booth, and he can't get her sins out of his head.
it should be easy to put his impure thoughts of her to rest, considering the vows tyler has taken.
it should be nothing to overcome what the sight and sound of her does to him, when his life with the church means everything.
but once he has his first forbidden taste of those red lips, tyler can't help but break all his rules for poppy-no matter what it might cost them both.
read more.
Related Products