have a little faith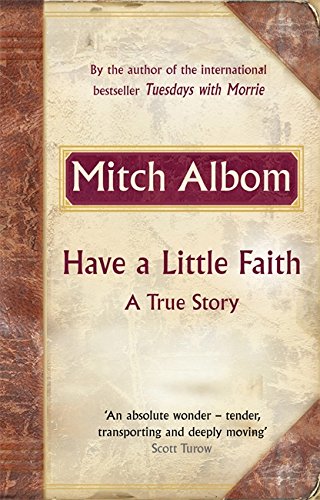 A
Brand/Author:

albom mitch

ISBN 13:

9781847442918

Publisher :

sphere books limited

Availability:

Stock Not Available
---
Details
Title information
have a little faith
Publisher
sphere books limited

Dimensions (H x W x L)

:

1.1 x 4.88 x 7.87 inches

Shipping Wtg

Shipping Wtg:

0.32 Kg

Language
ENGLISH
ISBN10
1847442919
ISBN13
9781847442918
now including a new chapter for the paperback edition.
"a masterpiece.
"
--publishers weekly "in the beginning there was a question.
'will you do my eulogy' as is often the case with faith, i thought i was being asked a favor.
in truth, i was being given one.
.
.
" "an absolute wonder--tender, transporting, and deeply moving.
"
--scott turow, author of presumed innocent "the nonfiction equivalent to paulo coelho's the alchemist.
"
--sydney morning herald "a faith journey that could become a classic.
"
--jim wallis, author of the great awakening "albom helps show the true definition of 'church.
' it is not the building, it is the people and their faith.
"
--bishop t.
d.
jakes, chief pastor, the potter's house "everybody should read it.
"
--hoda kotb in people, best book of 2009.
Related Products